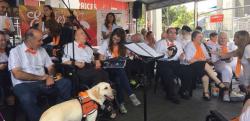 Date
From: Monday June 25, 2018, 6:30 pm
To: Monday June 25, 2018, 8:30 pm
Motor Neurone Disease then joined Royal Rehab in 2012, where volunteering numbers have grown and the variety of ways volunteers have supported Royal Rehab has expanded.
In 2016 The Centre for Volunteering awarded Ayse Dalkic, Excellence in Volunteer Management. Link https://www.volunteering.com.au/vnswa16-royal-rehab/
The Lifestyle Choir is led by professional singer Roseanna Gallo (Rotarian), meets Monday fortnightly and performs at community events such as West Ryde Easter Parade and Eastwood Granny Smith Festival the Rotary Carols on The Commons at North Ryde.
Volunteers assist by portering the residents from community home to the rehearsals, distributing musical instruments and holding the song sheets up for the participants.
Our wonderful Royal Rehab volunteers continue to support and complement our services in its changing and challenging landscape. The NDIS has meant that we need to seek more funding from the community to allow us to continue to provide the Lifestyle Choir.
Your support will allow us to support volunteers to keep up the work they do for the residents and will be grateful accepted.
Venue
Pennant Hills Golf Club
Copeland Road, Beecroft NSW 2119
Share this with your friends